We're currently in the middle of a not so fun to drive in, but pretty to look at snowstorm. And, during my 2.5 hour drive home today, all I could think about was the sun and coconuts. So, here's some of my favorite coconut goodies...
We always have coconut water stocked at home. Pineapple-coconut is one of my favorite flavors.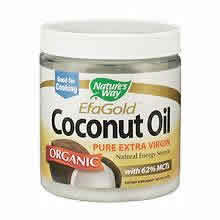 Coconut oil is fantastic because it has so many uses! Sometimes I use it to cook. Other times I use it as a moisturizer. I'll even use it on my dog's fur in the winter.
Bath and Body Works
3-wick candles are my absolute favorite. They last forever, and burn evenly. An added bonus is the pretty glass jar with silver lid you can use later on. They have a new coconut scent called Coconut Waters, and it smells divine!