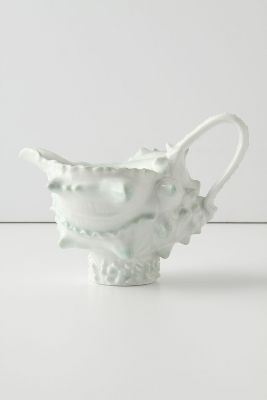 I can't stop thinking about this
Sea Creature Tea Set
from the mecca of all this pretty and girly,
Anthropologie
. Pictured above is the creamer, but there is also an equally exquisite sugar bowl, and tea pot. I can't help but keep looking at all the little nubby details and the faintest hint of green that falls into the little nooks. Can you tell I'm drooling over this?
Being newly engaged and all, I find myself booking marking in my mind things that I would like to register for. This set is surely on that bookmarked list! However, I doubt it'll still be around when it's actually closer to the wedding, sooo I guess I just might have to buy myself a little pressie!